This blog is about the deadpool cross over with fortnite. They have added three new skins in the game. The domino, cable, and the psylokce. They all cost around 1500 v-bucks. The skin is part of the X-FORCE set. My favorite skin is the psylokce. Her pickaxe is called psi-blade.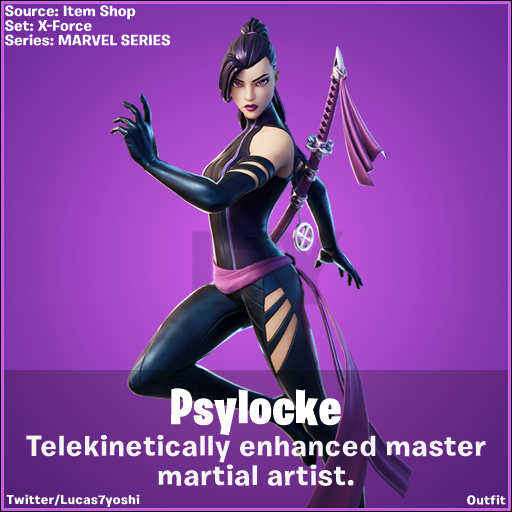 My least favorite skin would have to be the cable. The reason being that his hit box is way too big. But his back bling is actually nice. It is part of the same set as the other skins. To me he just looks like a rip of version of Thanos.
Now my favorite pickaxe would have to be the psi-blade. It has a really nice color and it looks cool. Also the way you hold the pickaxe is cool. You would normally have the pickaxes in two hands but with the psi-blade you hold the pickaxe with one hand.
Also there is a new color for deadpool. It is gray and black. There is only two challenges to do if you want to get this color variant. This variant in my opinion would go best with the katana back bling. And the best part of this is that this skin is free.